"And you need more ribbon why?" my husband groans as he struggles with the giant Rubbermaid containers that hold my relics of Christmases past. I will admit it, I am fickle when it comes to my Christmas decor. I love the thrill of heading to Michaels and looking at the abundance of ribbons and trimmings and needlessly spending my hard earned cash on things I don't need   picturing my family smiling around the tree. I can't help myself. Surely there must be a support group for people who hoard decorations?
Trees of Christmas past
Growing up we had a very classical Christmas tree. My mum always decked it out in beautiful shades of gold. I remember BEGGING her to buy tacky trinkets and red decorations but she was steadfast in her Christmas decorating ideals. At the time I didn't understand her and I promised myself that I would allow my children to go nuts with the tree and decorate it however they wish. I wasn't going to be that Christmas mum. I was going to let me kids adorn the tree in all the tack they wanted.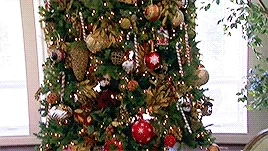 via Giphy
Trees of Christmas present
Flash forward 20 years or so and what do you know, I am that mum. I like my tree how I like it but I've come up with some compromises along the way that fit in with my control freak tendencies my aesthetic whilst speaking to the 10 year old child inside me who wants ALL THE THINGS on the tree. Living on the farm, I was inspired by the rustic Christmas decor I found at the local country stores. Think metal stars, checked ribbon and mismatched whimsical ornaments.  Over the years I've refined my style into one that I would call put together rustic. This year, I experimented with buffalo plaid and wood to create a chic farmhouse feel.
My Farmhouse style Christmas tips
It doesn't just have to be red, green and gold
Think outside of the box when  it comes to your colour scheme. Black and white plaid adds a classic touch to your decor theme and mixes well with a white farmhouse pallette.
Get a little touchy feely
Mix textures. Fuzzy, soft ribbon mixed with weathered wood gives laid back feel to your tree
Showcase international finds
Add little nods to family with cute ornaments that you have collected from your travels. Don't be afraid to add things you might consider tacky. You're dressing your tree for your family and it should reflect who you are. Not everyone needs an instagram perfect tree!
Bring the outside in with touches of green 
I am obsessed with my white kitchen but it can look a little clinical sometimes. Christmas is all about warmth to me. I create this in my kitchen with twinkling fairy lights and greenery. Honestly, I wish I could leave the wreath up all year but I think it looks a little too festive for the 30 plus degree days of summer.
Add a little kitsch fun to your apothecary jars
If you follow any farmhouse decor blog you know that these bad boys are everywhere. Usually filled with grains that no one eats or faux fruit, they look polished but for Christmas it's nice to try something a little different.
So there you have it friends. My farmhouse decor tips for Christmas. So how do you decorate for the holidays? Are you a full on festive control freak, Clark Griswold (BIGGER IS BETTER) or a go with the flow kind of person?