The sun rising above a dew covered field, the sound of cows mooing and roosters crowing, your children sitting around a scrubbed pine table. Sounds idyllic doesn't it? This is the image most people have in their mind when they think of the farmer's life. In reality it isn't all fresh eggs and tractor rides (well OK, there are a lot of those). Living and working on a farm is tough and time consuming and it really is a way of life. It is like the third person in your marriage, the thing that is constantly in the back of your mind and can be the main strain on your finances.
In the zeitgeist of "homesteading" moving to a farm is something that many people dream of and more and more often, people are packing up their "corporate" lives to head to the country in the search of a simpler existence. It seems like the perfect investment doesn't it? With the move towards whole foods you would think that people would be demanding fresh food from their smiling local farmer in a flat cap (what, don't all farmers wear a flat cap in your mind too?), However, farming is a very cliquey business where you need serious cash flow, connections and grit to make it.
Here are the top things you need to consider before moving to your dream life in the country.
Do you know what you're doing?

I know this sounds silly but do you honestly, truly know what you're doing? Have you researched your industry? So many people have the big dream to raise chickens to sell eggs or to buy 100 acres to live off but in reality, that isn't a big enough operation to support your family. You'll be able to make lots of omlettes sure but probably wont make enough to quit your day job (maybe unless you run an omlette blog or Instagram and in that case good for you and your weird niche). If you're thinking of keeping animals do you know welfare laws, how to properly look after them and slaughter laws? There is a lot of red tape when it comes to selling meat in Ontario. Is there truly a demand for your product?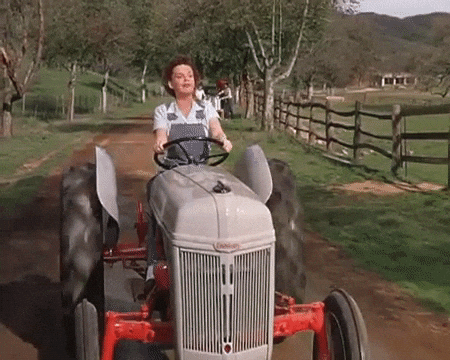 via Giphy
The isolation
This was the biggest issue for me as a city girl. It is likely that you will have to move very far away from the city (and perhaps your family) in order to afford a plot big enough to carve out some type of living. If only one spouse is farming then the other is left alone for long periods of time and this can put a strain on even the strongest of marriages.  Being a harvest widow is no joke! I genuinely think it would be easier if both partners were to work side by side (which puts another set of strain on a marriage I guess!) building a business together. I have always felt a little removed from the farm and like it is a very separate sphere that belongs to my husband and I sort of slot in alongside it.
The time 
Following on from the above point, farming takes A LOT OF TIME. You can't just stroll in with your Starbucks at 9am and clock out at 5pm. Things break, animals die, people need your services around the clock. If you want a set schedule then this lifestyle is not for you. However, there is some degree of flexibility when there is rain or if your operation is big enough to have multiple employees. Moreover, you have to accept that vacationing will be very difficult if you have animals that need tending (unless you have some awesome family that will take on the farm when you're gone). It is hard to plan your life around the farm and it is definitely something I myself am learning (albeit a little unsuccessfully sometimes) to be gracious about.
The dollar dollar bills
Farming is a money pit. It is estimated that 80% of new farms will fail in the first two years with that number growing into the 90s at the 5 year mark. Add this in with higher lending costs, weaker farm income and land prices cooling and the picture for new farmers isn't all that rosy. The reality is that big farms are getting bigger and small farms are struggling to get a slice of the pie. You will need a lot of money for your start up and will probably have to look at a dwindling bank account until your farm gets established. This is hard for many people to deal with and is the leading reason why so many throw in the towel after such a short period of time.
The take away
Farming offers many opportunities for a wonderful life. You can be your own boss, work outdoors in the fresh air and see the (literal) fruits of your labour. If you do well then the reward is handsome and some farmers are lucky enough to sell their farms to developers for a significant wad of cash. Your family can be self sufficient and live a wonderful life away from the hustle and bustle of the city. My children love playing at the farm and going for tractor rides, it really is the best place to grow up. But farming is grueling and embeds itself deep in your soul. Those of us who weren't raised on one baffle at how much heart goes into running a farm. My husband is a third generation farmer and his day to day life on the farm is still full of problems and complications despite being pretty established in our community. I know that market prices of livestock and crops play on his mind a lot. Even if you're happy to take the monetary risk for your new business (ad)venture, there is the loneliness that farming brings. I moved from the city in Wales to the country in Ontario and for me the biggest adjustment was spending so much time alone on the farm. It got so much for me that we moved into a small rural town so I could at least see another human on a daily basis.
Lately I have been looking at farms in Wales and trying to feel out whether my husband would be game to try. His answer as a fairly successful farmer, "you must be nuts. There's no way we can start out again and be successful".  Now if someone who has done well and has the expertise necessary thinks this way then maybe starting a farm is not a decision that should be taken lightly. However, if you think you've got what is takes go forth and farm my friend! I hope to see you at the farmers market in your flat cap in the summer!
I'm featured in the top 100 expat blogs at https://blog.feedspot.com/expat_blogs/ Check it out!